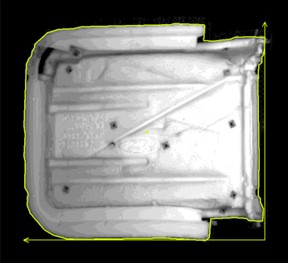 Trajectory Orientation and Positioning before Anti-squeeZe
TOPAZ is the latest turnkey solution designed and developed by GipsVision.
TOPAZ is intended foam production line for car seats, more precisely for the finishing lines. The system analyzes images of parts passing in random order along a conveyor belt to identify them and calculate their position and orientation.
This information is then passed to a robot that sprays an anti-squeeze agent onto the foam parts. The robot knows the spraying trajectory to be performed on each reference. However, it requires some information about each foam part: The reference number as well as the position (X, Y) and the orientation (θ) of the part on the conveyor belt.
TOPAZ achieves this for all foam models produced on the line, 24 hours a day, 7 days a week, on the fly, and within the specified process time of 3 to 4 seconds per part.
TOPAZ is currently in operation on 3 production lines - in France and Turkey - and is being commissioned on a 4th line.